To be comfortable, you should not forget about installing an air conditioning system in your home. Indeed, it is an essential aspect that offers such comfort and decor. You have the choice between the reversible air conditioner and heating stoves that provide a range of benefits. So, find in this article some heating systems that can also participate in the interior design.
Heating stoves
Heating stoves are efficient systems because they offer optimal heat from the desired location. In addition, they come in several categories, such as electric stoves, ethanol or bioethanol stoves, gas stoves, and wood stoves, but the latter is the most economical. It reduces the consumption of electricity and does not pollute the atmosphere.
Here are three types of wood stoves that are the cheapest on the market and are considered as unique adornments in a room:
The Shaman 10
It is a log stove that appears in a vertical rectangle and has a dimension of 560 x 1200 x 578 mm. Its heating surface is from 55 m² to 120 m². Besides the power, it can share optimal heat up to 10 Kw. This stove has a large tank to place logs up to 40 cm long.
The Mairy
This free-standing stove can be moved to any place. It is similar to the Chamane wood stove but offers a changeable temperature with a nominal power of 10Kw. This stove has a dimension of 524 x 1098 s 426 mm of surface, which can hold a large capacity of wood. The Mairy can be placed on any floor (concrete, wooden floor, tiles, etc.).
The Mesnil
It is a nice little heating stove that appears 487 x 986 x 385 mm in dimension. Its power is from 5 to 12 Kw. You can adjust its temperature according to your needs. The Mesnil does not contain a flue, and it can be moved in several times to keep all the inhabitants warm. This stove category requires a lot of wood refills because it has a small tank.
Reversible Air Conditioners
A reversible air conditioner will be able to provide you with heat and cold according to your wishes. It is adaptable in many places: in the bedroom, in the kitchen, in the living room, and even in the office.
Here are some air conditioner ideas that you can choose from:
The R410a Wall Mounted Split
For simplicity and comfort, opt for installing this type of air conditioner in your home because it has an elegant finish and is easy to install. Also, it is specially adapted to any season. The wall-mounted split is programmable in day or night mode, and it has a turbo device and a high-density filter. In addition, this air conditioner can memorize its last position before shutting down, and thanks to its condensation way, it can provide you with supplemental heat or room temperature from its location.
This type of air conditioner has an automatic restart mechanism.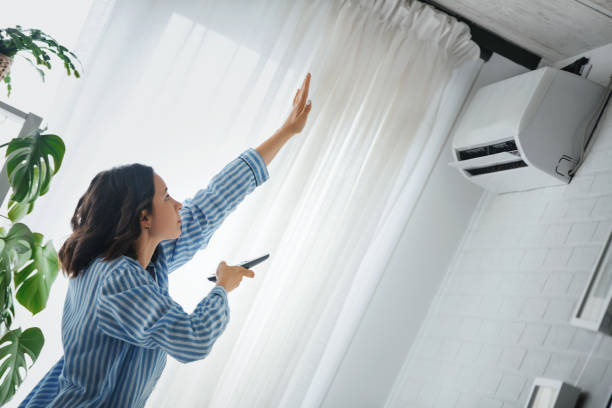 Cabinet air conditioner
The cabinet air conditioner is a very suitable model for hot countries, and it is recommended for prominent places such as government offices, exhibition halls, restaurants, etc.
Besides, the reversible air conditioner is easy to install, and it brings a perfect touch to your interior:
– it is adaptable in the kitchen as a refrigerator, in the living room as a storage cabinet, in the office as a file shelf, etc.
– it has a digital control panel that marks the evolution of technology, and you can control the temperature to obtain optimal heat or cold;
– it restarts automatically when needed.
Trendy Heating Systems for Your Home